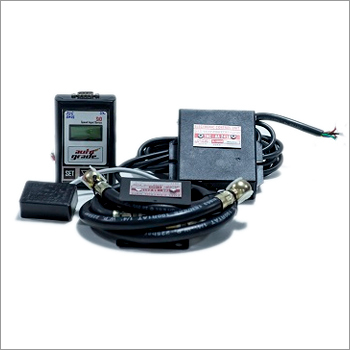 ROAD SPEED LIMITERS
Product Code : SG-01
Product Description
Owing to our hi-tech production lines, we are able to manufacture, export and supply a highly efficient range of Road Speed Limiters. The provided limiters are precisely manufactured using high grade components by our dedicated technocrats. The offered limiters are a motor-controlled speed limiting device that controls the speed of the vehicle by making a precise adjustment of accelerator cable. Additionally, our clients can easily purchase these Road Speed Limiters at reasonable prices from us.
Features:
Ruggedness
Seamless performance
Stabilizes the speed
Designed with LED display
ROAD SPEED LIMITERS
Autograde RSL's are mainly of three types:
Fuel Type Speed Limiter (DASS-86).
Mechanical Pedal Interface type speed limiter (C-DRIVE).
Electronic pedal interface type speed limiter (SAFEDRIVE).
Autograde Speed Limiters are certified by Automotive Research Association of India (ARAI), International Center for Automotive Testing (ICAT), Vehicle Certification Authority, United Kingdom (VCA), Emirates Authority for Standardization & Metrology (ESMA), Kenya Bureau of Standards (KEBS), Joint Accreditation System of Australia & New Zealand (JAS-ANZ) etc.
Our product conformed with ISO 9001:2008, AIS 037, GSO 1626:2002, KEBS, UAE Center of excellence standards. Our production process has also been attested to confirm to ISO/TS 16949:2009, as per a recent audit. The product goes through a three stage quality control process, with a defect ratio which is less than 1 per 1000 units.
DASS-86
DASS-86 is a fuel based electronic road speed limiter, which limits the top speed smoothly thereby increasing engine life, fuel efficiency and also overall maintenance cost. The product is ideal for Fleets, where the cost of device could be recovered within a month. DASS-86 is being sold in over 25 countries.
C-DRIVE
This is the traditional speed limiter which interfaces with the pedal of the vehicle, and limits the driver from driving beyond the cut-off speed mechanically. The C-DRIVE is widely sold in Asian countries.
Cable type speed limiter is a motor-controlled speed limiting device, which controls the speed of the vehicle by a precise adjustment of accelerator cable and stabilizes the speed at set speed, smoothly.
SAFE DRIVE
Advanced Speed Limiter which is most effective for vehicles with electronic engines and accelerator pedal. There is zero impact on vehicle with zero-moving parts and is Tamper-proof. This has specially designed connectors to avoid mistakes in connections. SAFEDRIVE is suitable for any vehicle with ECM's.